THE ORIGINAL CREATOR OF THE FIRST NATURAL, ECO-FRIENDLY AND SAFE, BED BUG SPRAY TREATMENT IS HERE FOR YOU.
Your Most Complete System to Eradicate and Eliminate Bed Bugs Once and for all!  Guaranteed!
Introducing our most advanced weapon against Bed Bug infestation. The effort to relieve yourself from Bed Bugs begins with a comprehensive plan of attack backed by scientific studies and consumer reviews that demonstrate that Bed Bug Patrol Treatment is the choice of thousands who have successfully terminated their Bed Bug problems.
See for yourself what children and pet-friendly, all-natural Bed Bug  Patrol solutions can do for your home, your family, and your peace of mind. Find out more below.
Do You Have Bed Bugs?
5 Questions To Ask Yourself.
1.
Do you live in an urban area and have heard your neighbors have bed bugs?
2.
Have you found dark or bloody stains on your mattress or linens?
3.
Do you get one or more red, sometimes itchy, bites?
4.
Have you seen bed bug shells or eggs on your furniture or mattress?
5.
Did you find a nest or actual bed bugs on your furniture or mattress?
If you answered YES to any of these, then this page will be the most important one you'll read.
Believe it or not, it IS possible to get rid of bed bugs without breaking the bank or worrying about poisoning your home and putting your children or pets in danger with harmful fumes and chemicals.
Most importantly – you can do it FAST (overnight or in a matter of days for more extensive infestations) and all by yourself. Our University-studied formula was proven to eliminate over 98% of the tested bed bugs after the first spray alone and 100% at the end of the study.
Sprays Alone Won't Completely Rid Your Home of Bed Bugs-It's Going to Take Some Effort on Your Part! Don't Worry; We've Got You! 
This is where Bed Bug Patrol can make you feel more confident in your efforts to take back your home. Follow these steps and see the results for yourself. Home or Hotel, we've got you covered!
Win Your Bed Bug Battle in 3 Simple Steps:
STEP #1: Clear The Room
Move mattress covers, linens, and clothing into a tumble dryer. If the care label allows, dry on the highest setting (typically 140 °F) for at least 30 minutes.

STEP #2: Inspect The Area
Preferably with a UV flashlight, inspect the area to gauge the size of the infestation. Start with the affected mattress and work outward to the edges of the room, leaving no crack or crevice unexplored.
Look for bed bug eggs, shell-like remains, and specks of blood from previous attacks.
STEP #3: Spray-On Target
Thoroughly spray the conta

mination zone including mattress seams, all sides of the bed frame and headboard, c

arpet edges, crown moldings, nightstands, and other furniture, curtain folds and windowsills, and any other cracks or crevices.

Don't Worry! 

Bed Bug Patrol Spray is safe for your family and pets. It is environmentally friendly, smells great, and is safe for use throughout your home,  so feel free to sleep in your bed tonight.
You Have Questions?
We Have Answers!
You Have Questions?
We Have Answers!
Bed bugs are small, oval, brownish insects that live in the blood of animals or humans. Adult bed bugs have flat bodies about the size of an apple seed. After feeding, however, their bodies swell and are a reddish color. Bed bugs do not fly, but they can move quickly over floors, walls, and ceilings.


Bed bugs are attracted to carbon dioxide.  When we fall into a deep sleep, as we exhale, we emit carbon dioxide which attracts bed bugs to come out from hiding. Bed bugs are also attracted to body heat that is generated by humans and can cling to shoes, clothing, and travel luggage to spread.


How can I prevent a bed bug infestation?

HERE ARE SEVERAL PRECAUTIONS YOU CAN TAKE TO HELP PREVENT BED BUGS FROM ENTERING YOUR HOME:




The best thing you can do is keep an eye out for bed bugs in your home before it becomes an infestation. You will want to look for signs of bed bugs where you sleep or rest (beds, recliners, sofa).





Bed bugs are very good at hiding in all kinds of cracks and crevices so you will want to grab a flashlight and check behind wallpaper, picture frames, under the edges of carpeting, any cracks in wood floors, and inside of all furniture.




If you travel, you'll want to check your luggage and the area where you store it for signs of bed bugs.

What are the common symptoms of a bed bug infestation?

Do you have a Safety Data Sheet (SDS)?
Our Formula Eradicates bed bugs in Every Cycle of Life from Microscopic Eggs to Pesticide-Resistant Adults and can Prevent Infestations for Up to 90 Days!

BED BUG PATROL COMPLETE KITS WILL INCREASE YOUR WINNING OUTCOME IN ELIMINATING BED BUGS, AND THE GOOD NEWS IS THEY COME IN VARIOUS SIZES TO MEET YOUR SPECIFIC NEEDS.
Single Room Kits-One Room or Smaller Area
If you've identified that you need a simple, quick-fix solution, and your problem is contained in a tiny area of your bedroom, consider utilizing this all-natural option for your mattress and box spring. After further investigation, think of one of our kits to fit your needs if you want to protect your entire room.
Medium Sized Kits-More Than One Room
When it comes to protecting multiple bedrooms in your home, consider this kit to assist you in treating a larger area and numerous mattresses, cracks, and crevices. Don't forget to treat curtains, your laundry, and other surrounding furniture for a thorough effort in your win to overcome any infestation.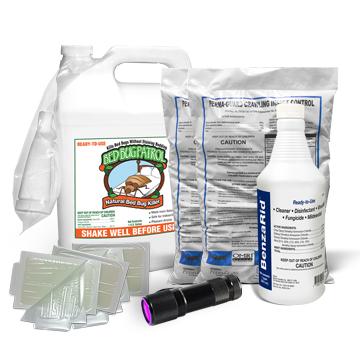 Entire Home Kits-Multiple Bedrooms, Kitchen, Living, Den
Protecting your entire home ensures a complete line of defense in your offensive attack on eliminating bed bugs. From bedrooms to the dining room, kitchen, and laundry. Make sure you cover areas where bed bugs can hide and feed. Our complete kits are ready for you to eradicate the bed bug problem.
Only Allow All-Natural Ingredients to Work for Your Family and Your Home.
Completely safe for your children and your pets, Bed Bug Patrol is one of the few products on the market tested by Snell Scientifics, LLC, and achieved 100% mortality in split test studies.
Our Ingredients Contain Essential Oils, No Harmful Chemicals and are never tested on Laboratory Animals.
BED BUG PATROL HAS BEEN HELPING FAMILIES AND BUSINESSES ELIMINATE BED BUGS FOR OVER 20+ YEARS AND IS A NAME AND PRODUCT YOU CAN TRUST FOR ALL OF YOUR BED BUG NEEDS.
Bed Bug Patrol - Bed Bug Spray's complete treatment program is trusted by families, businesses, hotels, and anywhere an effective, all-natural treatment is required. Bed Bug Patrol has been helping families and companies get rid of bed bugs since 2003 and is a name and product you can trust for all your bed bug needs.
Snell Scientifics, Inc. tested and proven effective 100% Mortality Rate

Naturally kills bed bugs on contact*

Kills bed bugs AND their eggs, ending the bed bug life cycle

Easy-to-use trigger sprayer

Pleasant Peppermint aroma

Non-staining formula; can be used on many surfaces

Safe to use on mattresses, box springs, linens, carpets, and MORE



Bed Bug Patrol Natural Bed Bug Killer Spray contains all-natural ingredients. It is proven to eliminate bed bugs (Cimex lectularius) without harsh pesticides in many traditional treatment methods.
Most Bed Bugs treatment products use Permethrins and Pyrethrins, which are seriously toxic carcinogens and harmful to humans and pets.
*Kills on contact: bed bugs generally die within 30 minutes to 24 hours of contact with Bed Bug Patrol Natural Bed Bug Killer.
Backed by Science and Most Importantly, Thousands of Our Customers.
Journal of Economic Entomology,
Volume 107 Issue (6)

1 December 2014
Potential of Essential Oil-Based Pesticides and Detergents for Bed Bug Control
Narinderpal Singh, Changlu Wang, Richard Cooper, Author Affiliations
J. of Economic Entomology, 107(6):2163-2170 (2014). https://doi.org/10.1603/EC14328
Findings: "Bed Bug Patrol (0.003% clove oil, 1% peppermint oil, and 1.3% sodium lauryl sulfate) caused >90% mortality of nymphs indirect spray and forced exposure residual assays."
SO FAR SO GOOD!!!
"In March, we found bed bugs on one of our kids' mattresses. We got rid of the old mattress and treated the room with tea tree oil and naively thought we had resolved the problem. Three months later, we found bed bugs in the room that shares a wall with the first room. We purchased another new mattress for that room and treated the room with a natural bed bug spray purchased at the store. We found the bed bug store and placed an order, but before our order arrived, we found a few bed bugs back in the original bedroom again, as well as a few in the second room, which had been sprayed with the other natural treatment spray. At that point, we treated both bedrooms with bed bug patrol spray and the dusting powder. The bed bug patrol spray instantly killed the few remaining bed bugs that we located when treating the rooms. Our kids stayed out of their rooms for two weeks while we monitored the rooms daily using the bed bug patrol as needed and vacuuming the rooms daily. We also put mattress covers (not purchased at the bed bug store) on both mattresses, as well as all other mattresses in our house even though they have not shown any sign of bed bugs. We have also used the dusting powder in all other rooms of the house, to include baseboards and furniture, as a precaution. It has been ten days since we have seen any bed bugs in either of the rooms. We plan to continue to monitor the bedrooms for any sign of bed bugs and will do another round of the dusting powder throughout the house in another two weeks. We are so grateful to have found the bed bug store (found it on Pinterest while searching for bed bug treatments) and are feeling optimistic that we have gotten rid of our bed bug problem once and for all! Thank you bed bug store!!"

– A. M.

USE OF SPRAY.
"We have been using the spray for the past two weeks in various parts of the house. It has worked well to help us rid several areas of the bugs, which we think were brought in by a visitor's suitcase. Your information booklet has also been helpful. We especially like the fact that it does not stain furniture, etc.. It takes a lot of work and concentration to get rid of bed bugs, but it DOES help to have a product that does not stain. We're battling on."

– Leonard D.

 EXCELLENT! KILLED ALL BEDBUGS INSTANTLY IN CONTACT.
"Recently woke up to arms covered in bites. The dreaded bugs were crawling on my forehead. Although we had a clause in the contract to contact the apartment manager as soon as we found bedbugs, we still ordered this spray just to kill them till the exterminators came. Lo and behold, the spray is magical. Killed all the bugs on contact instantly. I mean there was no better satisfaction than having to see them die after all the torture they give us. Try this before you call an exterminator. I think you just need to spray a bit more generously."
- Chetan
HIGHLY RECOMMEND!
"Purchased the product after finding it online. I wanted something fast especially after my wife told me she thought we had bed bugs. We had just gotten back from a trip to New York and had left the suitcases sitting in the room for a few days. When I went to unload the suitcases, there they were... then I went to the bed, yep a few of those SOB's were crawling around. Luckily I found out that the product could be picked up locally-so I took off and grabbed a gallon. Took off all the sheets like the instructions outlined, and tossed them in the dryer. Took all the clothes and ran them through a hot cycle and then to the dryer... Then sprayed everything, cracks, mattress, everything I could think off...
Been over 4 weeks now and nothing... no bugs, no issues."

– Dan D
"THIS COMPANY KNOWS THEIR STUFF..WORKS FANTASTIC, NO BUGS AFTER TWO WEEKS AND USING THE PRODUCT TWICE ON OUR CARPET....KILLS EGGS AND ALL....THANK GOD FOR THIS COMPANY"
- Steven
"I made a video but for some reason couldn't upload it, but it did work on contact! They curl up and die almost instantly. Some don't die right away but do within seconds of contact. The smell is pleasant, like minty, and I accidentally sprayed my brother in the face with it and it didn't even burn him or anything. I HIGHLY recommend this product!"
- Amy

"I used this for our luggage we used after we found one bedbug crawling on the Hotel bed at Bradenton, Florida. We paid for a premium room of this hotel, there is no safe Hotel at all. I always checked using my phone flashlight as soon as I entered the room. And yes I did not found any bugs the time we checked-in because it was a really clean room but at night when my husband was sleeping I saw one crawling on my husband back. So as soon as we got home I ordered this, hoping and praying it will kill any bugs (if any) goes into our luggage. So far I didn't find one but I used this spray all over the zippers of our hard luggage and inside too, just to be safe. The smell is not bad at all, peppermint smell."
-  Joss
"We have tried everything! Then when I was short of lighting my house on fire, because nothing seemed to work. We bought this spray, and honest to go, we haven't seen a single one since.
I highly recommend purchasing the gallon size as a first-time use. And a small spray bottle of it for an easy follow-up spray."
- Michelle C

"This works SO well! I cannot say enough about how awesome this product is! Bedbugs came to our house thanks to my son and have wreaked havoc on us all. This product, when used right is working like magic!"
- Laura


YOU WANT A PRODUCT THAT IS PROVEN EFFECTIVE IN ERADICATING BED BUGS ONCE AND FOR ALL. SINCE 2003, BED BUG PATROL SPRAY HAS COME TO THE RESCUE AND HELPED OUR CUSTOMERS TAKE BACK THEIR HOMES FROM INVADING BED BUGS.
DON'T RISK THE INFESTATION GETTING WORSE
WIN YOUR BED BUG BATTLE AND PURCHASE TODAY!
FREE STANDARD USA SHIPPING ON ALL ORDERS $100+!